About Vagabond Journey
"Were I permitted an avocation it would be the study of social conditions; what surer way of gaining vital knowledge of modern society than to live and work among the world's workmen in every clime?"
- Harry Franck, A Vagabond Journey Around the World, 1910
We travel the world directly investigating the local effects of world events, shifts in culture, disappearing traditions, social upheavals big and small, odd intrigues, as well as the more mundane intricacies that hold it all together. We travel as vagabonds, working as we go, ever trying to engage people and places a little closer to discover a little more about the world we live in.
Vagabond Journey was founded in 2005 by Wade Shepard, who's been knocking about the world since 1999. There are now 3443 posts on this blog, so please take your time and feel free to dig into the
complete archives
.
Subscribe
Our Books
Ghost Cities of China
by Wade Shepard
This is the founder and editor of Vagabond Journey's first book, published in the Asian Arguments series of
Zed Books
. It is the culmination of two years of traveling through China investigating the country's urbanization drive and new city building movement first hand.
Pre-order now from Amazon
.
Spanking the Children of Paradise
by Bad Mike
Bad Mike's first collection of stories from his perpetual downward spiral of travels in Asia.
Order now from Amazon
Essential Pages
Feature Stories
The second part of the build up to disaster.
Lawrence Hamilton recounts his first look at Pakistan in 2005.
Four beautiful women, an Israeli hunk, and Bad Mike share a hotel on the wild fringes of Kashmir. They thought their problems ended at lust and love. Then the rivers rose and mountains crumbled. Part one of this series sets the stage for the disaster that was to come.
David Fegan tries SLACKLINE for the first time in Rosario, Argentina.
I'm told about the ways of Singapore's nightlife.
I am given a little bigger picture of the ethnic layout of Singapore.
David Fegan discovers the importance of experiencing a place through the people who live there.
Lawrence Hamilton pushes himself beyond the brink to find the meaning of travel in a misadventure that spans across central China.
I journeyed to Singapore's final frontier: a completely undeveloped island of forests and small villages just a ten minute boat ride from the raging city.
On my first day in Singapore I met David, who told me a little about the lay of the land.
Blog
An Australian challenges the concepts of her country that many outsiders hold as fact.
Beer nerd Lawrence Hamilton samples random and strange beers in China.
The primer to a new series on travel safety, written by long-term travelers.
Where David Fegan is on the road to and why.
Very, very unusual? Not a peep, not a whimper, nothing but nothing from the tattoed sage of Maine (or is it China?)
Where are you Wade?
Why are cooking shows — of all things — attracting crowds in Australia?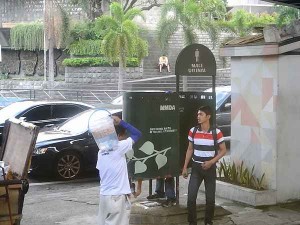 Wade arrives in the Philippines, this is his initial impression.
Geysers, protests, altitude, crazy drivers, mines, alcohol poisoning, cable cars… what leaves David Fegan crying for his mummy in Bolivia?
The Chinese way is real, and no matter how long you've been here you will never understand it. Fortunately, it somehow works.
A tired and slightly cultured-shocked David Fegan appreciates Sucre for its more familiar, low-cost comforts.
Countries